International Economy Professor, Thomas Chester in University of Birjand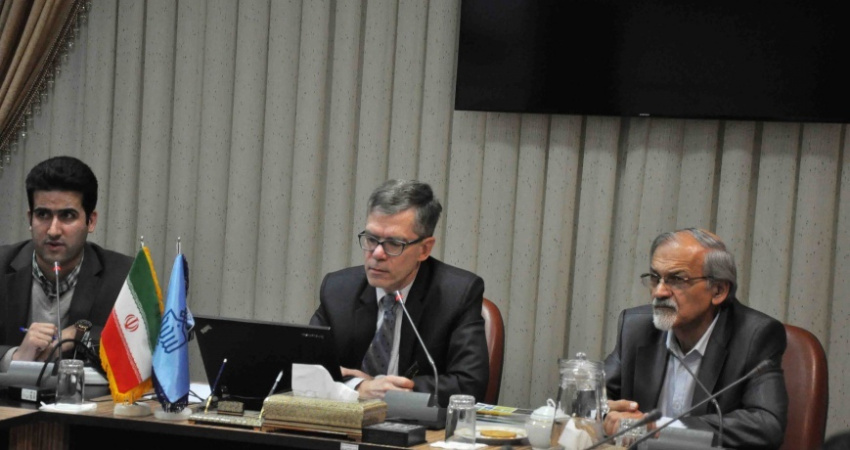 Thomas Chester, professor of international economy at the University of Mannheim, Germany gave a speech on: "The Requirements of an Entrepreneur University: Experiences of German Universities".
In his speech, Professor Chester first explained about the educational system of Germany in university and school levels. And then he clarified the efforts and plans of the German Universities put into practice to make a closer connection with society and industry.
Professor Chester divided the universities of Germany into three main divisions: Classical universities, Applied Sciences universities, and Collaborative universities. He mentioned that collaborative universities are highly influential in preparing students for entering into the job market. In his demonstration of collaborative educational university systems, he explained about the process of admitting students which is conducted through factories and companies with whom the university has signed contracts.
"University of Mannheim has signed collaboration contracts with 8ooo companies", he added. In these universities, applicants must first visit the university website and select the company and field of study of their interest. Once the companies choose students based on their own criteria and assessment, the applicant will then be officially considered a student of that university. The student is obligated to spend 3 months in university learning the theoretical content of the field of study and spend another 3 months in companies learning the practical and tentative works, all of which are conducted under the supervision of supervisors. So the student' first 3 years include 6 educational semesters at the company and 6 semesters at the university. And in the last year of his studies, the student should define a thesis based on the company's demands and conduct it in order to be awarded a bachelor degree.
According to Professor Chester, the students familiarize well with different sections of the company during their three years of educational instructions, because of which more than 90% of them are employed by various companies and some percent of these students resume their studies in post graduate levels. The starting point of these collaborative universities dates back to 41 years ago, when University of Mannheim started this educational system with only 40 students. It should be noted that this university has 38000 students right now.
Professor of international economy from University of Mannheim asserted that three German Companies suggested the establishment of such universities, because they believed that there weren't sufficient concentration on tentative instruction for students to be able to enter and work in the industry.
Thomas Chester also asserted that studying in these universities are free and both university students and companies are completely satisfied with this system. With regard to the success achieved with these collaborative universities, the establishment of the same universities in China and Chile are in progress.
The session ended with questions and answers regarding various issues related to higher education of Germany and experiences of the universities of this country in making a bridge with industry