International Training Workshop on 'Technopreneurship for Developing Countries', 11th – 15th March 2019, Kuala Lumpur, Malaysia
International Training Workshop on 'Technopreneurship for Developing Countries', 11th – 15th March 2019, Kuala Lumpur, Malaysia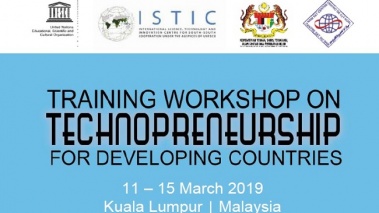 Considering the need for capacity building for developing countries, the International Science, Technology and Innovation Centre for South-South Cooperation under the auspices of UNESCO (ISTIC) and the Centre for Science & Technology of the Non-Aligned and other developing countries (NAM S&T Centre) announce the organisation of a 'Training Workshop on Technopreneurship for Developing Countries' in Kuala Lumpur, Malaysia on 11 – 15 March 2019.
This workshop aims to 'provide exposure to various topics relevant to technopreneurship in order to improve technopreneurial awareness and knowledge as well as innovative skills' and 'create awareness, understanding and motivation amongst participants by giving materials on technopreneurship and its role in creating impact, technology development, idea validation, opportunity assessment, business model, business planning and financing'.
Participants of the programme will be given training on the elements of entrepreneurship in relation to the demand of the knowledge and innovation economy. The participants will also be taught a systematic approach on how to help create and build successful businesses which are based on and driven by technology.
For more information on this workshop, please click here.